2016 ◉ 2017 ◉ 2018 ◉ 2019 ◉ 2020 ◉ 2021 ◉ 2022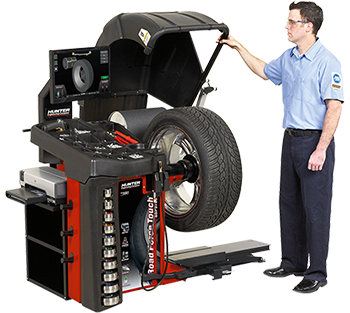 With personalized and specialized attention.
Giving each client our full attention.
Road Force Touch® delivers exceptional balancing service and performs a Road Force® measurement to easily diagnose and solve vibration issues faster than a traditional wheel balancer. Road Force Touch® balancers offer:
Road Force® measurements
Intuitive touchscreen interface
On-Demand training videos
StraightTrak® measurement eliminates pulls
SmartWeight® technology saves money on correction weights
eCal automatic calibration
HAWKEYE ELITE® ALIGNMENT SYSTEM
HawkEye Elite® uses four precision cameras to measure the position of targets mounted to each wheel using Hunter's patented QuickGrip® adaptors. QuickGrip® adaptors feature spring-loaded arms that grip the tire, eliminating metal-to-metal contact and potential rim damage. The HawkEye Elite® increases efficiency by producing results in just 90 seconds. Benefits of Hunter's HawkEye Elite® wheel alignment system include:
Multiple configurations
Faster setup
Lighter, narrower targets
Low maintenance
High resolution cameras
Quickly recall OE specifications

SGE partners with over 20 manufacturers, which allows us to provide virtually any automotive service equipment needed to ensure your business is as efficient and profitable as possible. We build the foundation of our business, and our customers' businesses, around our partnership with Hunter Engineering. Hunter continues to be the industry leader in passenger car and heavy-duty wheel service, alignment and inspection equipment and we continue to be their #1 U.S. distributor.
The SGE team and our Territory Sales Representatives operate under very simple principles: to learn and understand you and your business, identify where you want your business to be versus where you are currently, and determine how we can help you attain those goals by leveraging the best automotive equipment in the world.